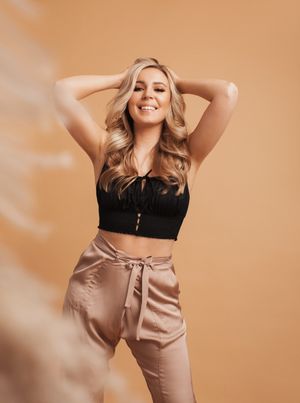 Elyse Saunders
Country music has always felt like home for Elyse Saunders. From the dynamic stages of Toronto to the bright lights of Nashville, the Peterborough, Ontario native has followed a path of steadfast determination and artistic inspiration – regularly captivating crowds with her powerhouse vocals, engaging live show personality, and interactive charm. 
With over 350 shows including packed country concert stages, country clubs or intimate songwriters rounds, Elyse has also had multiple industry showcases like Canadian Country Music Week, Indie Week, Country Music Association of Ontario and Boots Hearts Country Music Festival.
A series of Nashville songwriting trips led to new recordings with acclaimed BC producers Dan Swinimer (Sacha), Paul Shatto (Jetty Road), and David Wills (The Higgins). In 2020, Elyse released "Free", an anthemic summer smash marking a successful re-entry to the Canadian radio market, highlighted by CBC Country/Sirius XM rotation. The single earned over 500K Apple Music streams, won Song and Video of the Year at the Mississauga Music Awards. The video remains on regular rotation on Stingray Country TV. 
The 2020 winter ballad "Wine Down", penned by Elyse in Nashville with Joey Green ("The Voice"), highlighted her songwriting chops and stunning vocals. Along with over 125K Spotify streams, it earned the #1 spot on Amazon's Breakthrough Country playlist and top-lined "Wine Down with Elyse Saunders" – a digital fully-produced concert. Elyse performed "Wine Down" on "Today in Nashville", and it was also a Top 100 pick by American Songwriter. 
The 2021 single, "Sunshine State of Mind", was one of the year's Top 50 most played country songs on Amazon Music with over 600K plays, and spawned a popular music video that was featured on CMT.com and added by CMT Australia for regular rotation. This accompanied Elyse's Top 5 finish in the CBC Music Toyota Searchlight competition and finalist spot in the Boots & Hearts Emerging Artist Showcase. 
After receiving CMAOntario Award nominations for 2021's Female Artist of the Year and Rising Star, Elyse dropped her brand new EP "Free", which includes her current radio single, "Genes". "Genes" promotes inclusivity and at the core is about celebrating people for who they. The single has received the support of 7 major Apple Music playlists and the music video has quickly gained over 170,000 views within the first month of release in addition to a feature placement on CMT Nashville & regular rotation on CMT Australia. Not only has the song been receiving great response online, but after being selected as one of the top 5 "CBC Toyota Searchlight" winner's in 2021, "Genes" was given the opportunity to be released not only to Canadian radio but also to the Australian and US radio airwaves as part of her prize package. The past two years have proven to be successful with rapid growth for Elyse through her major career strides, multiple radio releases and the release of her brand new EP. In 2022, Elyse is excited to receive consecutive nominations at the CMAOntario Awards but this time for "Album of the Year" & "Music Video of the Year" awards and very much looks forward to spreading her wings in new markets & continuing her prosperous momentum.
HIGH RES PHOTO DOWNLOAD LINK: 
https://tinyurl.com/ElyseSaundersHQ
—
  "A producer is only as good as the song and the artist they are producing and Elyse Saunders is a dream come true. She has profound natural talent combined with the rare work ethic needed to stand out in a very crowded music industry. Soulful emotion and vulnerability comes so naturally to her, but her impeccable pitch, raw power and projection comes only to those that work for it. She's so good with melody and lyrics and overall has such great instincts for what makes a song great. When Elyse Saunders sings - I get shivers! She's the type of artist that lights up a room and stage with her presence - I hope the world discovers what I already know. Elyse Saunders is a star." — Dan Swinimer, CCMA Award-Nominated Producer (Sacha, Madeline Merlo)
...
Management & Bookings Contact: pointcathron@gmail.com (Tina Simpkin)